The offensive phase for Alliance Wars lasts 24 hours and allows players to attacks the specific zones shown below and score points for their Alliance. Note that we are working to add more content around effective Offensive Counters in Alliance Wars. This is a work in progress and we will be adding to this list and editing regularly. Thank you for your patience, and if you want to contribute in any way Tweet us @GamingFansDFN anytime.
Defensive Team – Effective Offensive Counters – Notes
Brotherhood – Defenders – within 10% power, Jessica Jones is a must to dispel debuffs
Brotherhood – Power Armor – within 10% power
Defenders – Power Armor – within 10-15% power
Defenders – Tech – within 10% power using Star-Lord, Minn-erva, Thanos, Rocket Raccoon and either Groot, Vision or Captain Marvel
Kree w/Minn-erva & Captain Marvel – Defenders
Wakandans – SHIELD – within 15% power, take out Shuri as quickly as possible
In addition, the infographic below has been making the rounds on Discord through the early days of Alliance Wars in Marvel Strike Force and sums up the priorities for Alliances to focus on.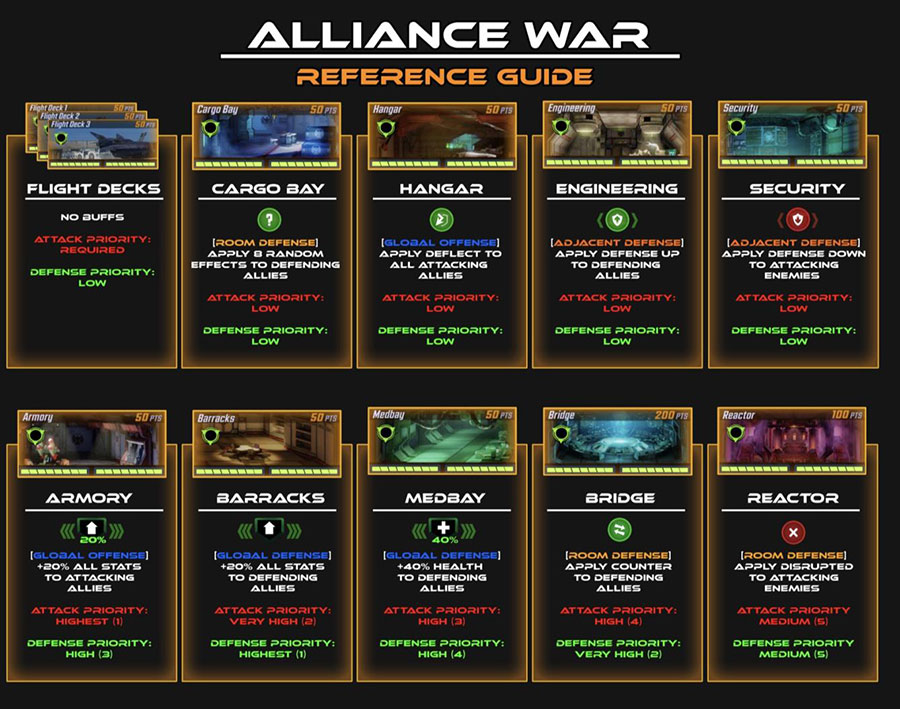 Armory – Global Offense, +20% All Stats to Attacking Allies
Attack Priority: HIGH
Defense Priority: HIGH
Barracks – Global Defense, +20% All Stats to Defending Allies
Attack Priority: VERY HIGH
Defense Priority: HIGHEST
Bridge – Room Defense, Apply Counter to Defending Allies
Attack Priority: HIGH
Defense Priority: VERY HIGH
Cargo Bay – Room Defense, Apply Random Effects to Defending Allies
Attack Priority: LOW
Defense Priority: LOW
Engineering – Adjacent Defense, Apply Defense Up to Defending Allies
Attack Priority: LOW
Defense Priority: LOW
Flight Decks – No Buffs
Attack Priority: REQUIRED
Defense Priority: LOW
Hangar – Global Offense, Apply Deflect to all Attacking Allies
Attack Priority: LOW
Defense Priority: LOW
Medbay – Global Defense, +40% Health to all Defending Allies
Attack Priority: HIGH
Defense Priority: HIGH
Reactor – Room Defense, Apply Disrupted to Attacking Enemies
Attack Priority: MEDIUM
Defense Priority: MEDIUM
Security – Adjacent Defense, Apply Defense Down to Attacking Enemies
Attack Priority: LOW
Defense Priority: LOW