August SWGoH Calendar of Game Events
Below is a quick look at the Star Wars Galaxy of Heroes events calendar for the month to help SWGoH players across the globe plan for upcoming game events. All of these are subject to change as EA/CG controls the calendar of events in SWGoH.
Looking for the SWGoH Login Character of the Month? Click to see who the month's daily login toon is as well as a historic archive of past daily login characters in Galaxy of Heroes.
Note that because we use a Content Delivery Network (CDN), some updates to this calendar will take longer to update in certain areas of the globe than others.
August 2019 SWGoH Events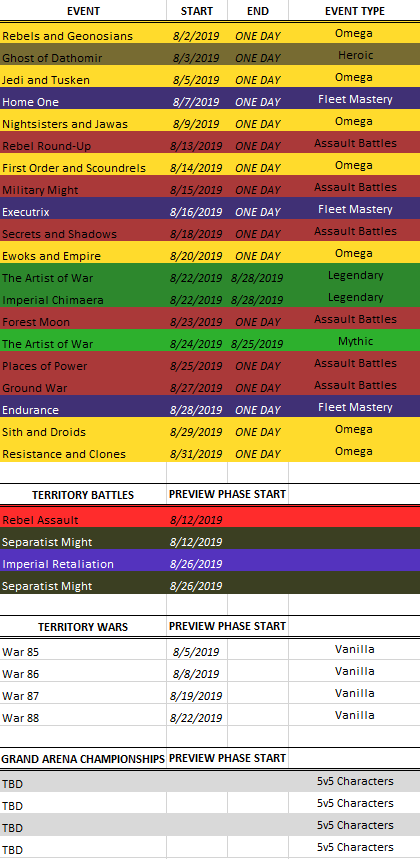 Territory Battles
Hoth: Rebel Assault or Geonosis: Separatist Might – Begins August 12
Hoth: Imperial Retaliation or Geonosis: Separatist Might – Begins August 26
> More about Territory Battles in SWGoH including walkthroughs for specific Combat Missions and all Special Missions
Territory Wars
War 85 – August 5
War 86 – August 8
War 87 – August 19
War 88 – August 22
> Our Territory Wars guide is under construction
Grand Arena Championship
Grand Arena #1 – Start: 8/19/2019 – Cancelled
Grand Arena #2 – Start: 8/26/2019
Grand Arena #3 – Start: 9/2/2019
Grand Arena #4 – Start: 9/9/2019
Grand Arena Championship Review – Start: 9/16/2019
> Check out our Grand Arena guide for SWGoH including counters, tips and more in the works!