Transformers Earth Wars is a game centered around resource gathering, leveling your bots, alliance wars, alliance raids and weekend events. While resource gathering, alliance wars and alliance raids all take place Monday through Thursday, the Friday/Saturday/Sunday weekend events are arguably the key to maximizing your resources and reaching the "top" of the TFEW world. Weekend events allow players to gain a variety of resources (usually broken up throughout the month) and even unlock new bots (characters).
No weekend event in TFEW is as competitive as the Alliance Leaderboard events. Held every 1-3 months, the Alliance Leaderboard events always have a bot available to unlock at 2, 3 or 4-stars based on how well each alliance performs. With scores that calculate in real-time on the leaderboard, players can check to see how their alliance is performing throughout with the following expected rewards:
Top 5 Alliances – 4-star bot
Top 100 Alliances (6-100) – 3-star bot
Here is a look at historic Alliance Leaderboard events and the scores it took to place in each category for rewards. Special thanks to BattlestarG1 for the great work on these graphics!
Alliance Leaderboard – October 2019
The October 2019 Alliance Leaderboard event featured new characters Hound V.A.M.P. and Soundwave H.I.S.S.
---
Alliance Leaderboard – July 2019
The July 2019 Alliance Leaderboard event featured new characters Rhinox and Tarantulas
---
Alliance Leaderboard – June 2019
The June 2019 Alliance Leaderboard event featured new characters Rook and Blot
---
Alliance Leaderboard – March 2019
The March 2019 Alliance Leaderboard event featured new characters Cybertron Jetfire & Cybertron Starscream
---
TFEW – Alliance Leaderboard – February 2019
The February 2019 Alliance Leaderboard event featured new characters Streetwise & Sinnertwin
---
TFEW – Alliance Leaderboard – November 2018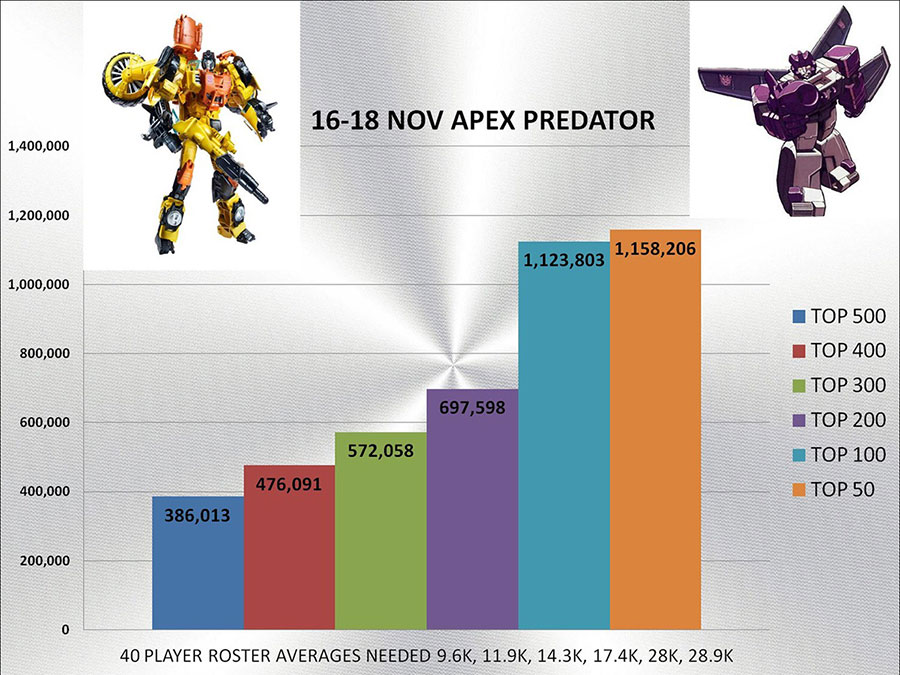 ---
TFEW – Alliance Leaderboard – October 2018
---
TFEW – Alliance Leaderboard – September 2018
---
TFEW – Alliance Leaderboard – July 2018
---
TFEW – Alliance Leaderboard – April 2018
---
TFEW – Alliance Leaderboard – February 2018
---
TFEW – Alliance Leaderboard – January 2018