Galactic Legends Events in Star Wars Galaxy of Heroes were newly-added events taking place for the first time in 2020 that can be played at any time, but have very steep requirements. Galactic Legend characters will have the ability to impact the Mastery stats that were added with the addition of Relics to SWGoH, and are designed for end-game players.
Four Galactic Legends characters are now known after the original two after Rey and Supreme Leader Kylo Ren were added in early 2020. Jedi Master Luke Skywalker and Sith Eternal Emperor were first announced in August 2020 and will be joining the game in the coming months.
Below we will list the prerequisites for these characters and their events as well as valuable resources to help you in your quest to unlock the Galactic Legend character in SWGoH. The kits for these characters will be linked to below as will the live blog/walkthroughs of the gameplay of their events from our Content Director, LJ. In addition, we have linked the mod guides and Relic reviews for each character required beside their names. Each active link has been reviewed in 2020 to ensure the content is updated given the age of this game.
Galactic Legend Characters in SWGoH
Click on the links to view each Galactic Legend character's kit, requirements and more.
Rey – added March 2020
Supreme Leader Kylo Ren – added March 2020
Jedi Master Kenobi – expected in June 2021
Jedi Master Luke Skywalker – added October 2020
Sith Eternal Emperor – added October 2020
---
 Galactic Legend: Rey
– Galactic Legend Rey's kit & abilities
– Live Blog/Walkthrough – Unlocking Rey (Galactic Legend)
Characters Needed/Required for Galactic Legend Rey:
Raddus (Capital Ship) – 5 stars
---
Galactic Legend: Supreme Leader Kylo Ren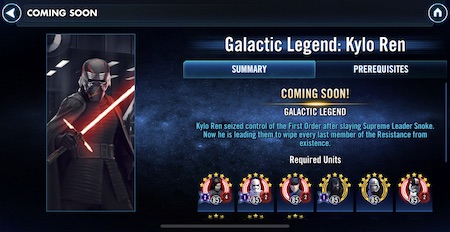 – Supreme Leader Kylo Ren's kit & abilities
– Live Blog/Walkthrough – Unlocking Supreme Leader Kylo Ren (Galactic Legend)
Characters Needed/Required for Galactic Legend Kylo Ren:
Sith Trooper, Relic 5 – mods
Finalizer  (Capital Ship) – 5 stars
---
Galactic Legend: Jedi Master Luke Skywalker
– Jedi Master Luke Skywalker's kit & abilities
– Live Blog/Walkthrough – Unlocking Jedi Master Luke Skywalker (Galactic Legend)
Characters Needed/Required for Galactic Legend Jedi Master Luke Skywalker:
Biggs Darklighter, Relic 3 – mods
C-3PO, Relic 5 – mods
Chewbacca, Relic 6 – mods
Han Solo, Relic 6 – mods
Hermit Yoda, Relic 5 – mods
Jedi Knight Luke Skywalker, Relic 7 – mods
Lando Calrissian, Relic 5 – mods
Mon Mothma, Relic 5 – mods
Obi Wan Kenobi (Old Ben), Relic 5 – mods
Princess Leia, Relic 3 – mods
R2-D2, Relic 7 – mods
Threepio & Chewie, Relic 5 – mods
Wedge Antilles, Relic 3 – mods
Rebel Y-Wing – 6-stars
---
Galactic Legend: Sith Eternal Emperor
– Sith Eternal Emperor's kit & abilities
– Live Blog/Walkthrough – Unlocking Sith Eternal Emperor (Galactic Legend)
Characters Needed/Required for Galactic Legend Sith Eternal Emperor:
Admiral Piett, Relic 5 – mods
Colonel Starck, Relic 3 – mods
Count Dooku, Relic 6 – mods
Darth Maul, Relic 4 – mods
Darth Sidious, Relic 7 – mods
Darth Vader, Relic 7 – mods
Director Krennic, Relic 4 – mods
Emperor Palpatine, Relic 7 – mods
General Veers, Relic 3 – mods
Grand Admiral Thrawn, Relic 6 – mods
Grand Moff Tarkin, Relic 3 – mods
Jedi Knight Anakin, Relic 7 – mods
Royal Guard, Relic 3 – mods
Sith Marauder, Relic 7 – mods
Imperial TIE Bomber – 6-stars
---
Galactic Legend: Jedi Master Kenobi
– Jedi Master Kenobi's kit & abilities
– Live Blog/Walkthrough – Unlocking Jedi Master Kenobi (Galactic Legend)
Characters Needed/Required for Galactic Legend Jedi Master Kenobi:
General Kenobi, Relic 8 – mods
Negotiator – 6-stars
Mace Windu, Relic 3 – mods
Aayla Secura, Relic 3 – mods
Bo-Katan Kryze, Relic 5 – mods