The introduction of Zeta Materials, aka "Ability Material Zeta," has completely changed the landscape of Star Wars Galaxy of Heroes. Comprised of a combination of Mk III, Omega and Zeta Materials, these new ability "power-up" have changed the game forever.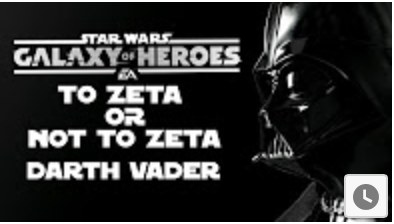 The addition of Zetas has also paved the way for new nicknames as Zader, Zaul and Zody have replaced Vader, Maul and Cody in SWGoH.
In an effort to continue to become the #1 resource for all things SWGoH, Gaming-fans.com will both list and review Zeta Materials in use as we collect resources on the topic. From our Media Partner Smithie D's "To Zeta or Not to Zeta" videos to our own reviews, we hope the info and Zeta Materials list below will help you in your next Zeta use decision. Also be sure to check out our best Zeta Abilities list for SWGoH where we use the rankings from the articles below to rank the best Zeta Materials use.
Below we list the SWGoH characters who have Zeta abilities. Note any toon with a asterisk (*) has multiple Zeta abilities which will all be covered on their individual character Zeta page.