Welcome to the Best Mods for Jedi Knight Revan – the latest article in our series about the popular game Star Wars Galaxy of Heroes where we take a look at the best mods for all SWGoH characters. While I do not claim to have all of the answers in this game, I do my research and have used every toon I write about extensively. These are mod recommendations and they are certainly not the only option. However we look to help players maximize their characters in SWGoH and we are always open to hearing your feedback @GamingFansDFN on Twitter if you have a mod setup that works well in your own gameplay.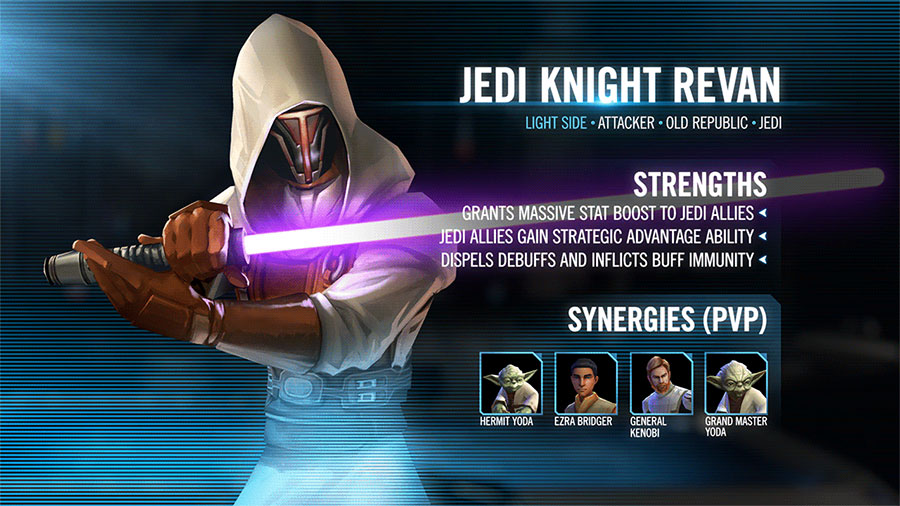 Today's character to review mods for may be the most controversial character in all of Galaxy of Heroes – Jedi Knight Revan. A non-canon character who is from the popular Star Wars: Knights of the Old Republic game, JKR's original announcement brought concerns of alienating the FTP & dolphins of SWGoH as well as praise from the SWGoH whales. Gaming-fans.com wrote a live blog of  the Legend of the Old Republic Ancient Event which took place for the first time on October 18, 2018 as those players were the first to unlock Jedi Knight Revan. For now, let's take a look at the best-suited mods for the Jedi Savior.
Main Focus: Speed. While Mods 2.0 gave other mod sets a needed boost, Speed in SWGoH is the necessary evil of Galaxy of Heroes and is not going away anytime soon. There really is no getting away from Speed, and JKR is a META-defining character with a crazy good kit on paper which needs Speed in order to make the most of it, but I suggest getting that Speed from secondary stats and not a set of four Speed mods.
Additional Areas to Focus: Critical Chance, Critical Damage, Offense, Health, Defense, Potency and Tenacity. With such a large and complex kit there are a lot of areas to build upon, so this is where you need to be selective and hone in on a few areas to focus on instead of trying to do too much (unless your mods are that ridiculously awesome). Both his Master Strategist special and Hero unique increase Critical Damage and his Leader ability, General of the Old Republic, grants Revan and his Jedi and Old Republic allies increased Critical Chance, so look to build both stats. Offense will only help him hit harder, crit or not, so adding more Offense is logical. The Direct Focus special will benefit greatly by added Potency to ensure it is effective and Tenacity is gained from the Hero unique (Revan only) and his leader ability (Jedi and Old Republic allies). JKR's Hero unique also grants him +10% Health and Defense (and +5% to all Light Side allies) which is all doubled when he is in the Leader slot, so look to boost both stats to maximize his survivability.
In-game Mod Recommendations: Offense and Critical Chance. My thoughts on this may change over time as I am still struggling to figure out what kind of mods I am going to put in Revan right away. I was originally considering a Offense, CD or Speed set of four plus a CC or Health set with awesome Speed secondaries, but I settled in on the recommended Offense and CC mod sets since they fit my mod inventory well. Keep checking back to see if I update this section after testing him more.
Ideal Mod Setup for SWGoH Jedi Knight Revan:
Because I am a believer in putting the best mods on the best characters in the game I have put a lot of time into the mods I placed on Jedi Knight Revan. I of course targeted Speed and Health through mods and the CC/CD or Offense debate was tough as I looked to attempt to maximize his kit. To start, here is my recommendation for the best mods for Jedi Knight Revan:
Transmitter (Square) – Offense mod with offense primary and a secondary focus on speed, health, offense and potency
Receiver (Arrow) – Critical Chance mod with +30 speed – any health or offense gained from secondary stats is a bonus
Processor (Diamond) – Offense mod with defense primary and a secondary focus on speed, health, critical chance and offense
Holo-Array (Triangle) – Offense mod with +36% critical damage – any health, speed, or offense gained from secondary stats is a bonus
Data-Bus (Circle) – Offense mod with health primary and a secondary focus on speed, critical chance, defense and tenacity
Multiplexer (Plus) – Critical Chance mod with health primary and a secondary focus on speed, health, offense or defense secondaries